2015 SASP annual meeting Stockholm
Tuesday 04 Mar 2014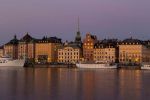 The next SASP annual meeting and PhD course will be held in Stockholm April 12-14 2015
Please see more details on the link to the left. Topics include neuropathic pain, pain in joint disorders, rehabilitation and exercise, cognitive behavioral treatments, migraine, and spinal circuits gating pain.
It will be possible to apply for SASP travel awards.
The 36th annual meeting of the Canadian Pain Society (CPS) May 20-23 2015
Please note: All SASP members can attend the CPS scientific meeting at the CPS member registration fee. More information here.